Often, while making blown films, materials which have already been recycled several times, are used to make the films.
Use of recycled material causes several problems.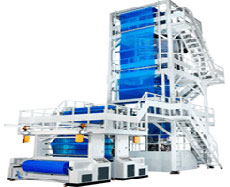 In this process, the molten form of plastic is extruded through a die in the machine to form a thin tube. Air is introduced in the die which blows up the tube like in a form of balloon. Further, the hot film is cooled with the help of cool air and is then further flattened.
Plastics such as HDPE, LLDPE, LDPE and other variety of resins are used to produce films.
In order to eliminate the moisture problems (porosity, fish eyes, gassing, poor strength, bubble puncture etc) from the films, RecycloAid (moisture absorber) is used.
By adding 1%-2% of RecycloAid (depending upon the application), you can eliminate moisture related problems from the root.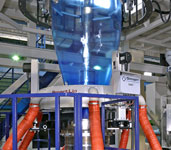 RecycloAid Benefit
Increases productivity
Improves surface finish in films
Eliminates fish eyes
Removes unstable blown film bubble due to continuous leakage of air
Eliminates porosity
Removes gassing
Removes poor strength
The major applications of Blown Film Recycling are: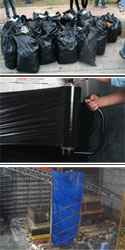 Garbage Bags
Recycled Garbage Bags are prone to moisture. RecycloAid is added before the recycled material is dumped into the mixer. It eliminates moisture in recycled and reclaimed polymers and enhances the mechanical properties of the products.
Films with Fillers
When recycled material is used to make Films, problems like fish eyes and porosity are often seen.
RecycloAid is polyethylene recycling additive which eliminates such moisture related problems.
Construction Films
The plastic manufacturers can also useRecycloAid to remove lacing in films or to improve surface finish and quality of the Construction Films.
Precautions:
If you are using a mixer, add RecycloAid during the last stages when the water is evaporated and preheating is not required.
If pellets have low moisture level, then they have to be preheated in the mixer.
Keep the packet of unused RecycloAid closed in order to prevent it from moisture.