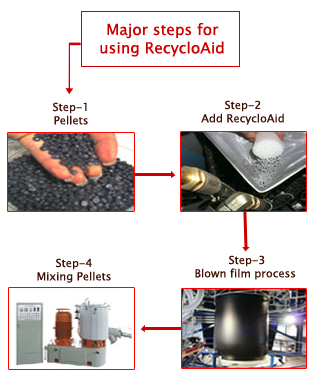 Blown Film Recycling: Procedure to use RecycloAid
Step 1 : Accumulate pellets.
Step 2: Preheat the pellets for some time  in the mixer only if they have a high moisture level.
Step 3: Add RecycloAid (1%-2%) in the mixture during the last stages.
Step 4: Transfer pellets to the Blown film hopper in order to proceed with the Blown film process.
Results after using RecycloAid:
Stable bubble
No leakage, no fish eyes
No gassing
Improved strength
High surface finish in films
Increased rate of production
Precautions:
Preheat pellets only if they have high moisture level. Otherwise, Simply add RecycloAid into the mixer during the last stages and transfer the mixture to the hopper.
Keep the RecycloAid packet away from moisture.
Do not use the unused material if it stored for a longer time.
Keep the packet closed to retain the shelf life of the additive.